TxtmateGh Connector
Automate the messaging process
with our authentic solution and secure
your database within minutes
Route Connector entitles the company to automate the entire messaging process while conserving total control over internal database and information. With one-time installation, Route Connector assures data security of its end users as this data is logically constrained within the client's premise.
How Does Your Business Benefit?
On-site Installation
On-site installation at the client's premise to remotely monitor and process the messages.
Database Security
Protect your database with no exposure to third parties and have a complete command over data retrieval.
Fully Automated Application
With a fully automated process, avail the perks of fetching data directly from your database.
Cost Effective
Minimize the incurred cost with inexpensive hardware and low capacity server requirements.
Quick Deployment
Swiftly deployable with its user-friendly installation method.
Traffic Handling
Complete Control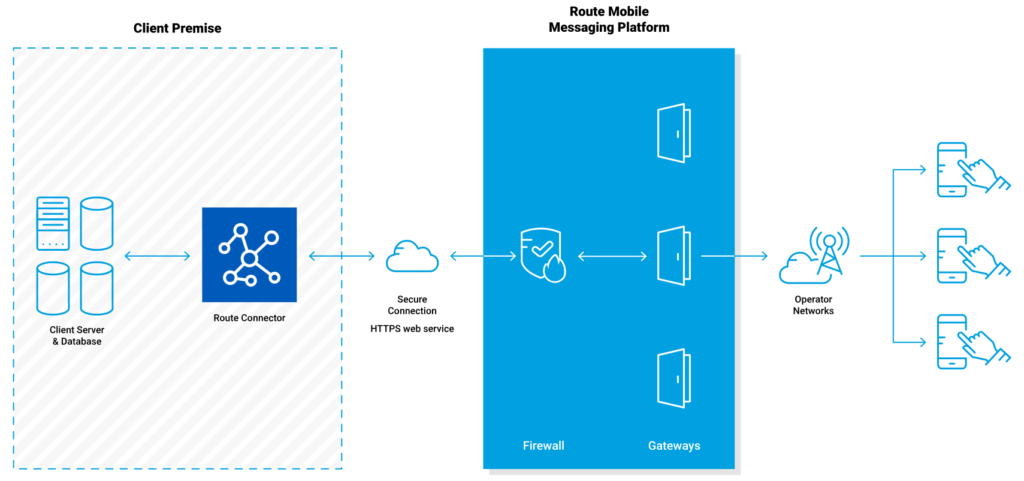 Get a consolidated report of messages sent with delivery status, detailed credit usage and current day's statistics. Our range of reports include credit details, present day statistics, SMS reports and SMS summary that are analyzed using following parameters: Phone Number
Provides you with a list including all the mobile numbers on which the message was sent. Actual Message
Contains the actual content of the message sent. Message Length
Consists of the total number of characters in the message. Credit Deducted
The total cost incurred for sending the message. Country Operator
Specifies the country and the operator of each of the mobile number from the list. Message Parts
Specifies the number of parts in which the entire message was sent. Sent Date/Time
Provides with the time and date when the message was sent. Delivery Status
Specifies the delivery status of the sent message. Delivery Date/Time
States the time and date when the message was sent.